4x100ml Sublimation Ink Auto Refill for EcoTank Supertank Inkjet Printers ET2720 ET2760 ET-2800 ET-2850 ET-3850 ET4700 ET-4760 ET-4800 ET-4850 ET15000 WF7820 WF2750 (Autofill/ICC-Free/Anti-UV)
Use With Printer Model
More
Use with
ET-16650
ET-2700
ET-2720
ET-2750
ET-2760
ET-3710
ET-3750
ET-3760
ET-5800
ET-5850
ET-5880
WorkForce WF-3520
WorkForce WF-3540
WorkForce WF-3820
WorkForce WF-7010
WorkForce WF-7210
WorkForce WF-7510
WorkForce WF-7520
WorkForce WF-7610
WorkForce WF-7620
WorkForce WF-7710
WorkForce WF-7720
WIDE COMPATIBILITY: E-Z Ink Sublimation ink are compatible with Epson EcoTank/ ET series/ WF series printers.  Refilled for Epson

 

ET-2720 ET-2700 ET-2750 ET-2760 ET-2803 ET-2800 ET-3800 ET-3710 ET-3750 ET-3760 ET-5800 ET-5850 ET-5880 ET-16000 ET-16650 WF-3520 WF-3540 WF-3820 WF-3840 WF-7010 WF-7440 WF-7210 WF-7510 WF-7520 WF-7610 WF-7620 WF-7710 WF-7720 L3110 L3150 L4100 printer ect.

Great for DIY and Custom Printing: The sublimation ink is ideal for mugs, T-shirts, cloth, pillowcases, shoes, caps, ceramics, boxes, bags, quilts, cross-stitched items, decorative clothes, flags, banners, etc.  Bring your creations to life printing for every occasion, especially great as gifts for friends family, and more.  (Note: Sublimation ink can only be used in fabrics containing less than 30% cotton.)

RELIABLE PERFORMANCE AND GREAT QUALITY: 3 layer filtered ink is formulated for heat press transfer printer.  The vibrant colours and non-fade quality ensure the durability of the prints.  A high heat transfer rate means less time for the print while the anti-clog feature of the print heads allows smooth and uninterrupted printing.  The specifically designed nozzles of the ink bottles make the refilling simple and easy for you.

【Simple Operation】 Auto-filling design is suitable for novice operation. Autofill sublimation ink bottle is designed specifically for Ecotank printer nozzle make refilling the ink easier and simpler. Pack with needle syringe and gloves, you could use it with any dye-sublimation printer by the accessory kit.

Package Contents: 1 Bottle x 100ml Black Sublimation ink, 1 Bottle x100ml Cyan Sublimation ink, 1 Bottle x 100ml Magenta Sublimation ink, 1 Bottle x 100ml Yellow Sublimation ink (Total 4 Pack), 2 x gloves, 4 x syringes. Whether you are a beginner or an experienced person, this ink will be your best choice.

E-Z Ink sublimation ink bottle has ISO-9001 and ISO 14001 certificate approval. The product undergoes strict test before delivery, high quality with strong stability and durability can beensured. 

24 Months Warranty

1 business day

Free Shipping
Description
Product Information
Brand Name:E-Z Ink
Packing Size:6.57 x 6.18 x 2.48 inches
Color:Black, Cyan, Magenta, Yellow
REPLACE OEM #:
Product Type:Sublimation Ink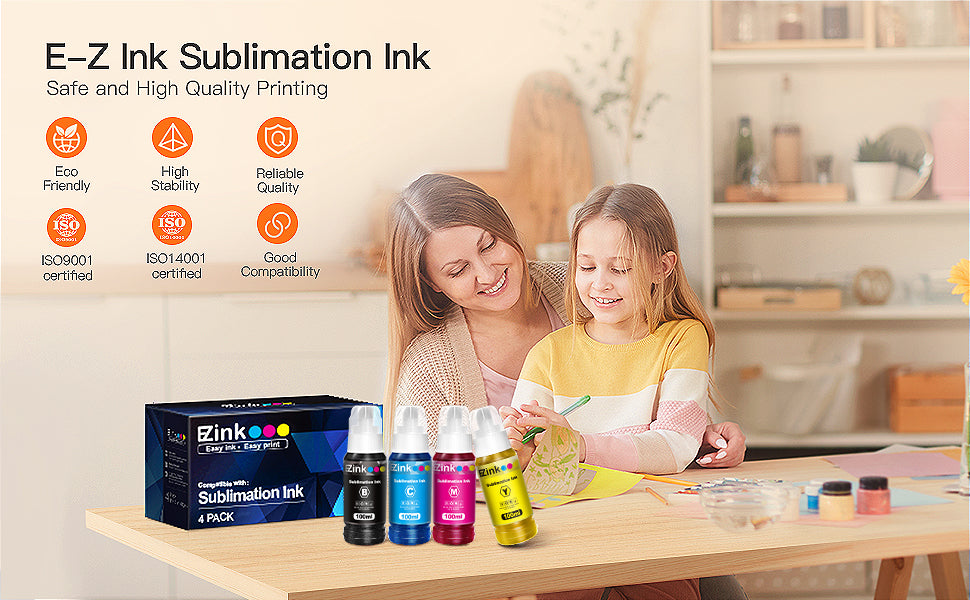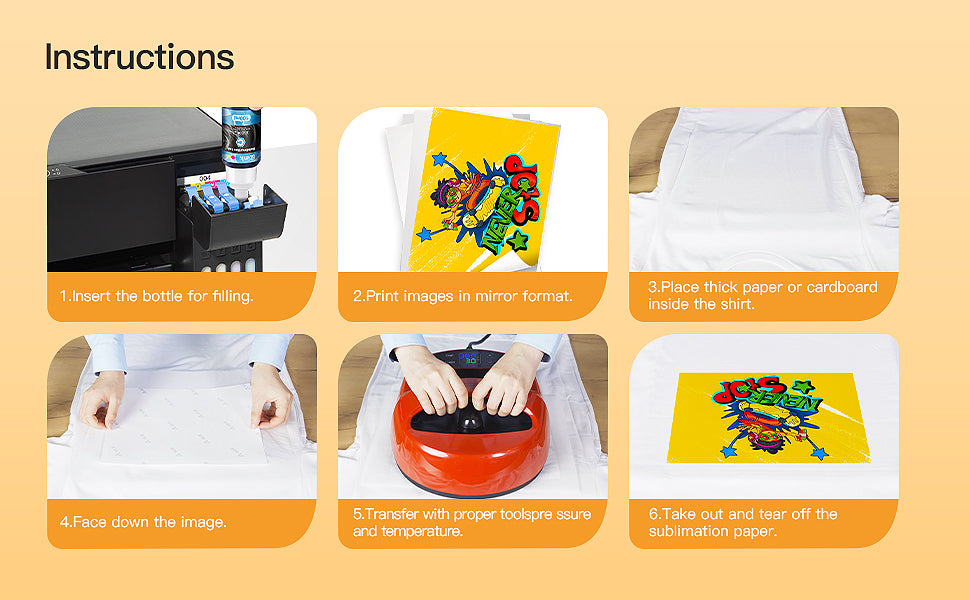 Easy
Bought this ink for a newly purchased Epson Ecotank 2720. So easy to add the ink to the printer since the bottles are designed to fit. No need to change the bottles or use a syringe.
Great sublimation ink for the price
Super easy to use since the bottles fit perfectly in the printer. Also I received in a very quick turnaround from the time I ordered.
Best refills for Epson eco-tank converted sublimation printer!
These are hands down the best set of sublimation refill ink I have used. Instead of buying a super expensive sublimation printer, I converted my Epson EcoTank ET-2720 into a sublimation printer! Each set comes with the standard Black, Blue, Red Yellow colors. It also comes with a syringe and blunt tip needle for each color to refill the ink tanks with the sublimation ink and a set of gloves. I love that the ink bottles came sealed in a plastic wrap too.
Great ink
Great ink that worked perfectly well and it was affordable. Good deal. I recommend to everyone.
I got clear and bright colors the first use
This ink is so easy to fill in my printer because it locks in.. no mess!!! It has very vibrant color and superior color release.
ENTER YOUR EMAIL
Subscribe to obtain $5 off Coupon!
Get $5
loading...
WELCOME BACK!
You're already on the list
Take $5
as a thank you for comming
USE CODE: Newez123
CONINTUE SHOPPING