Canon PGI-280XXL CLI-281XXL Compatible Ink Cartridge (5 Pack)
Use With Printer Model
More
Use with
PIXMA TR7500
PIXMA TR8500
PIXMA TS9100
PIXMA TR7520
PIXMA TR7620
PIXMA TR8520
PIXMA TS6120
PIXMA TS6220
PIXMA TS6320
PIXMA TS702
PIXMA TS8120
PIXMA TS8220
PIXMA TS8320
PIXMA TS9120
PIXMA TS9520
PIXMA TS9521C
Package Contents: 1 x Large Black 280XXL, 1 x Small Black 281XXL, 1 x Cyan 281XXL, 1 x Magenta 281XXL, 1 x Yellow 281XXL (NOT Include Photo Blue, Total 5 Pack)

Page Yield: PGBK (Large Black) is 600 pages per cartridge, Small Black is 6360 pages per cartridge, Color is 830 pages per cartridge

Printer Compatibility: Compatible with Canon TR8620a TR8620 TS9520 TS9521C TR8622 TR8520 TR8500 TR7620 TR7520 TR7500 TS6100 TS6120 TS6200 TS6220 TS6300 TS6320 TS702 TS702a TS8100 TS8120 TS8200 TS8220 TS8222 TS8300 TS8320 TS8320 TS8322 TS9100 TS9120 Printers

Premium quality ink delivers crisp text and graphics

24 Months Warranty

1 business day

Free Shipping
Description
Product Information
Brand Name:E-Z Ink
Packing Size:‎2.2 x 1.42 x 2.6 inches
Color:Black,Cyan,Magenta,Yellow
REPLACE OEM #:PGI-280XXLBK, CLI-281XXLBK, CLI-281XXLC, CLI-281XXLM, CLI-281XXLY
Product Type:Ink Cartridge
FAQs
Is this PGI280XXL CLI281XXL ink cartridge compatible with my printer?

Our 280XXL 281XXL compatible with TR8620a TR8620 TS9520 TS9521C TR8622 TR8520 TR8500 TR7620 TR7520 TR7500 TS6100 TS6120 TS6200 TS6220TS6300 TS6320 TS702 TS702a TS8100 TS8120 TS8200 TS8220 TS8222 TS8300 TS8320 TS8320 TS8322 TS9100 TS9120 Printer.

Does PGI280XXL CLI281XXL ink cartridge offer free shipping?

Yes. Free shipping will automatically apply to all orders within the United States. These areas, states and territories are outside our shipping area.
All orders are normally shipped within 1 business day; Orders placed on weekends or holidays will be shipped the following business day.
What is the page yield of this PGI-280XXL CLI-281XXL ink cartridge?

PGI280XXL PGBK (Large Black) is 600 pages per cartridge, CLI281XXL Small Black is 6360 pages per cartridge, CLI281XXL Color is 830 pages per cartridge. ($0.008 / page ONLY, Save up to 70% compared to OEM ink cartridge)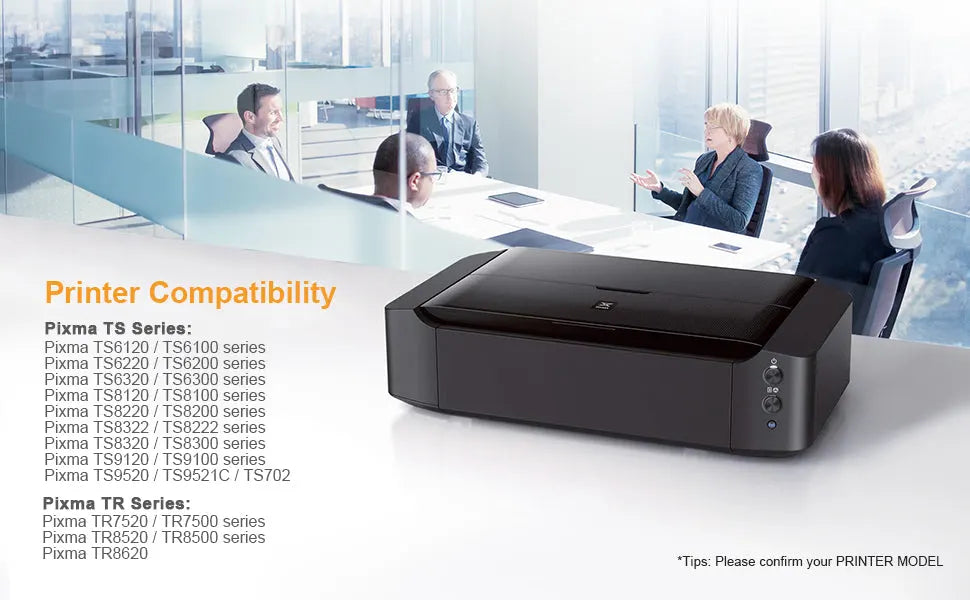 Can be used in Canon printers
Works in Canon Pixma, lasts a long time for home printing and doesn't break the bank to order more. Especially like the "old-fashioned" individual cartridges so you can just replace the ink that is empty.
Bang for the Buck!
Great replacement ink for my Canon printer. Works perfect, lasts a long time and costs a lot less! I will be reordering when the time comes!
great value
I've purchased this set twice and hasn't given me any issues. Neither with over use of the ink and there's hasn't been any compatible issues. I use an older canon printer.
Great value that's equal to the brand name.
durabilidad del producto es muy buena , dura más que los cartuchos originales.
Cheaper than brand name ink and works perfectly in my printer.
ENTER YOUR EMAIL
Subscribe to obtain $5 off Coupon!
Get $5
loading...
WELCOME BACK!
You're already on the list
Take $5
as a thank you for comming
USE CODE: Newez123
CONINTUE SHOPPING